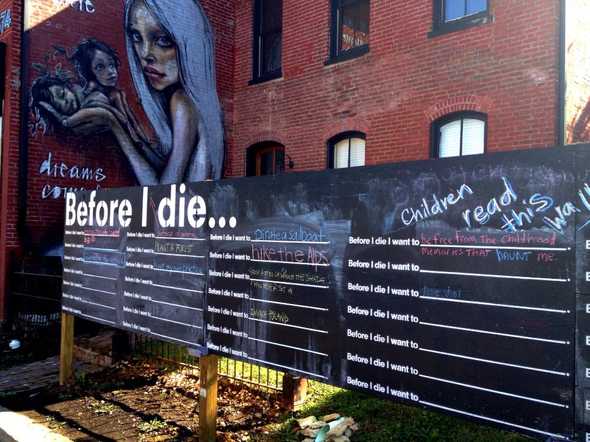 October, 2013 — These installations were first created by New Orleans artist Candy Chang, who painted the side of an abandoned house with chalkboard paint after losing a loved one in Hurricane Katrina. Each line's "Before I die I want to ___" is designed to engage people passing by and encourage them to interact with the piece. You can pick up a piece of chalk, reflect on your life, and share your thoughts in public space.
I first heard about these in 2011. I'm excited to see one pop up in my own neighborhood.
It's an example of open-source art; that is, anyone can put one up, and at any given moment it can be modified by the viewer. The art is constantly changing.
The project challenges you to pause and consider what matters to you and what you would like to do while you're still around. It's a collection of hopes, dreams, and irreverent attempts at humor.
It isn't lost on me how like-life the board actually is. Every so often, all of those comments are wiped away to make room for more, and the writer's thoughts become a chalky film that the next person will scribble over with their own thoughts.
This one is in Lexington, Kentucky, but you can build your own or see others around the world through the project's website: http://beforeidie.cc