September, 2020 — When I was a young adult I dreamed about this grand trip where I would take a canoe all the way from Cincinnati to New Orleans. I imagined that it would take several months, a whole summer maybe, and that I'd camp along the river and meet wild and crazy characters while exploring the cities of the Ohio and Mississippi rivers. The Adventures of Huckleberry Finn made an impression on me as a child, and I was determined to have my own adventures on the river too.
As I got older… well, I still think it would be fun to take a house boat or river cruise down the river, but the idea of a several months long journey in a tiny boat seems less and less feasible : )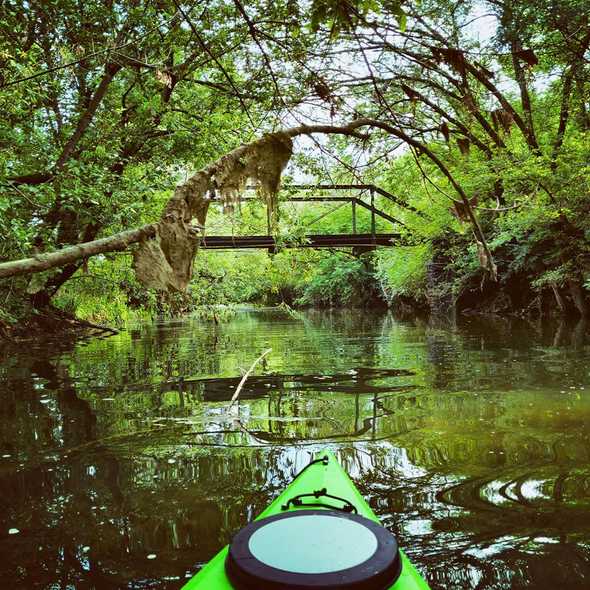 I went on several canoe trips in the Boy Scouts. It's been awhile, but I recall one of them being at least ten miles on the Little Miami River in Ohio, near Fort Ancient. I also bought an inflatable kayak (called "duckies") a few years ago, since I live near the Elkhorn Creek that runs through Lexington, Georgetown, and Frankfort. Every now and then I'd put in at the boat ramp across from the Yuko-En Japanese garden in Georgetown and paddle an hour or so upstream before floating back. The inflatable was great because I could just pop it in the trunk of the car whenever I got the urge to go out.
This summer my dad and I wanted to explore more places in Central Kentucky, so we bought new kayaks. We've been having a great time!
A few places we've been so far
Elkhorn Creek
Our quick, couple of hours, go-to route has become to put in across from the Yuko-En Japanese garden in Georgetown and paddle out to the fork below Bi-Water Farm, explore that narrow creek a bit, then paddle up to the railroad bridge that crosses over the Elkhorn. On a good day, we'll arrive at the bridge just as a train is passing overhead. From there, we turn around and mostly float on the way back. A 16 oz. can of beer usually lasts the return trip. It never gets old and there's all kinds of nature creeping along the banks of Elkhorn Creek. You are guaranteed to see turtles sunning themselves on drift wood.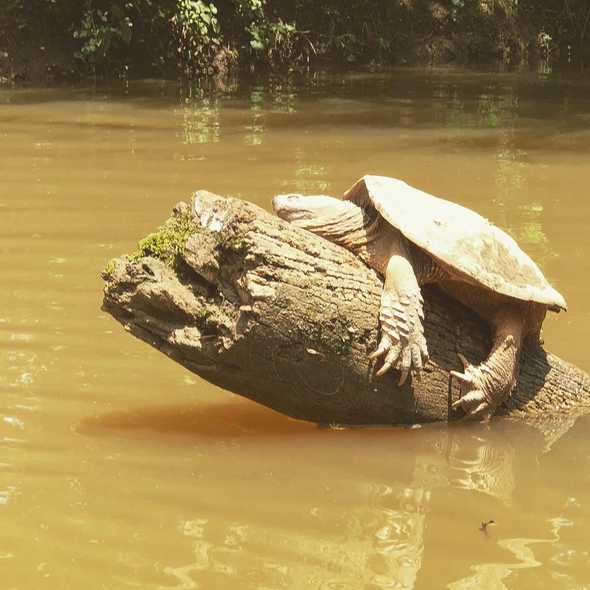 We've also put in at the boat ramp across from Arbys. We've travelled the bending curves of the creek from there to Yuko-En, and we've also gone the other way out and under I-75.
More recently, we put in at Yuko-En and went in a straight shot several miles out to the ramp at Great Crossing Park. Most of what you find on the North Elkhorn Creek in Georgetown is Class A waters, no faster than what you get in a stillwater lake. Heading towards Great Crossing you may find some Class I areas, but I think that was only because of recent rain and shallow areas that might not be passable when the creek is drier.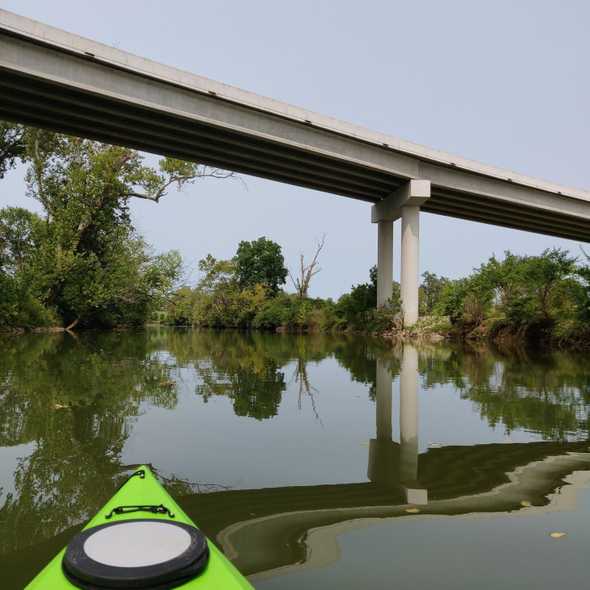 I'm happy to say we've covered the entire Georgetown section of Elkhorn Creek, from I-75 to the 460 Bypass on the other side. With that knocked out, I've got my eye on the area between Georgetown and Frankfort, but I'd have to plan that out as it's all farmland out there.
Corinth Lake
This 84-acre lake is in Grant County, and though it's viewable from I-75, my understanding from talking to other kayakers is that not a lot of people know it's public and open to anyone. Seems that most people assume it's a private lake. The boat ramp is free to use, so we've been there a couple of times.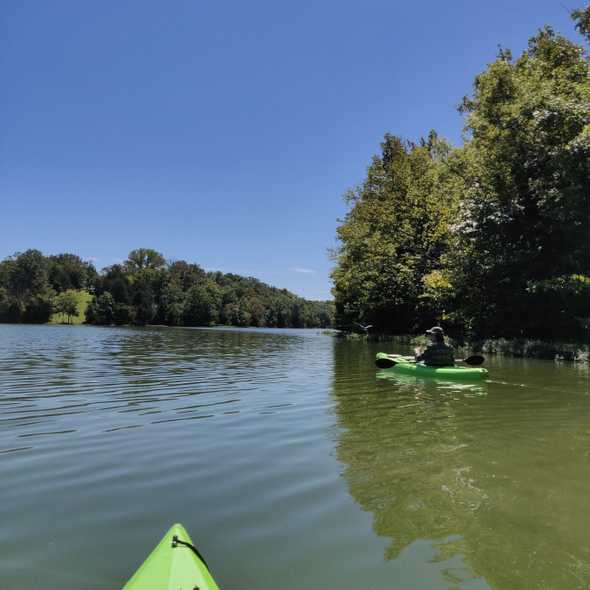 It's a narrow lake, but there's a lot of little nooks and corners, and we've been all through those.
The first day we went to Corinth Lake, we happened to arrive on a day where a group of geocache enthusiasts were going out to find several new caches that had been secreted along the lake perimeter. I've been geocaching some, but it never occured to me that there might be geocaches hidden in waterways. I might go looking for those in the future.
Kentucky River
The Kentucky River is just south of Lexington in Central Kentucky and probably the most popular destination for kayakers. I'd love to check out some of the other areas of the Kentucky River, but so far we've been to High Bridge, just above Lock 7 near Shakertown. When we went, the water level was about 10 feet, the water was choppy, and the river looked like water-downed coffee. I don't know if it always looks like that since we've just been the one time. The views here are incredible, because this section of the river cuts through palisades on either side.
From the put in it's a quick paddle upstream to High Bridge, a railroad bridge that crosses 275 feet above the river. According to Wikipedia, this is the first cantilever bridge in the United States. Construction on it began in 1851.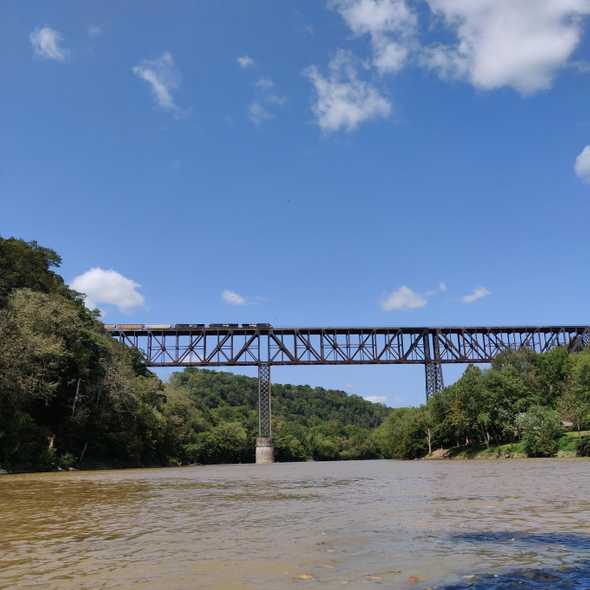 Just above High Bridge is the confluence with Dix River. I must say, I simply love the crystal clear waters of Dix River. I've seen aerial photos of where two rivers meet and one of them is muddy, and the other one isn't, but it's absolutely amazing to see this in person. It's like oil and water. They don't mix. At the edge, just below the surface, is a cloud of earth suspended like the clouds you see in videos of Jupiter's atmosphere. I've never seen anything like that before. I'm sure that in some way they're mixing together. They have to be. Visually, it's a clear separation. Also the temperatures are entirely different. The Kentucky River was warm. The Dix River was cool. It was a strange encounter.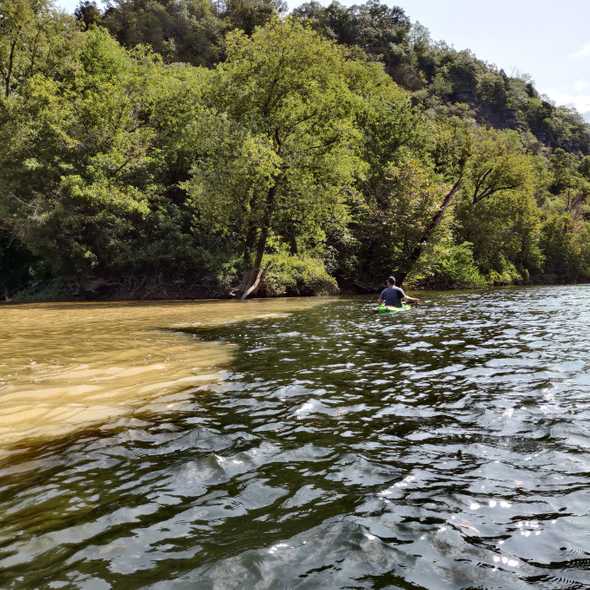 Up the Dix River the water is so clear that along the sides you can see several feet to the bottom. Any fallen trees are clearly visible. If you're lucky, you can catch an adult fish swim by, but there's countless small fish to see. I would not feel uncomfortable at all swimming in the Dix River on a hot summer day. Besides the water, you're treated to lush vegetation along high walls with the occasional rock outcrop peaking through the trees. It's very nice and I am definitely going to explore more of the Dix River in the future.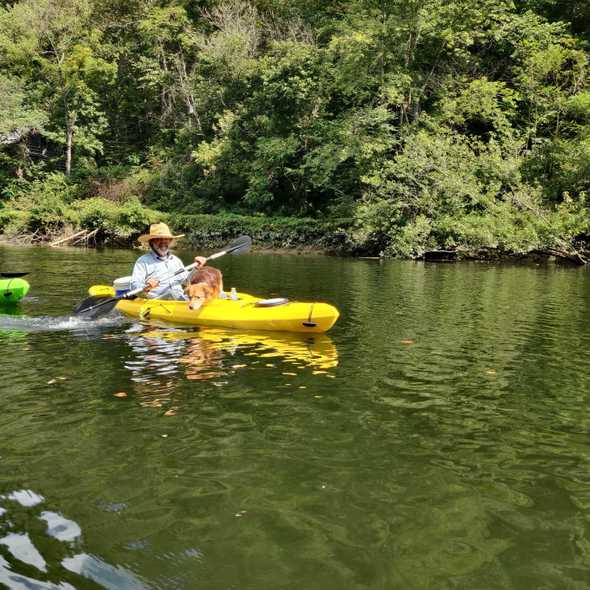 Where I'd like to go next
I've got to get up to Cincinnati at some point. Something about touring Cincinnati's waterfront by kayak really speaks to me. I also think the Grotto at Grayson Lake would be fun and I hear that Rough River Lake has caves. Kayaking in or about a cave would be awesome! I'm also interested in making an overnight trip by kayak, where you pack essential gear, plan a route, and hope that you get to your campsite before it gets dark. It's getting late in the season, though. The air is a little chillier, the water less warm. Might have to tuck these ideas away for next year.
Who knows, maybe some day I will take that kayak trip from Cincinnati to New Orleans after all.